P-51 Adapter Module
The P-51 Adapter Module converts the P-51 QFP into a 104-pin grid array, and includes the surface-mount P-51 and bypass capacitors.
All 100 P-51 signals are brought 1-to-1 to the perimeter pads. The extra four corner holes allow easier mounting of posts and do not connect to the P-51 circuit.
The pin pattern is a standard 0.1 inch (100 mil or 2,54mm) pitch and conforms to a 15x15 dual row grid to provide convenient routing between pins. The entire module is 1.60 x 1.60 inches square. The 0.042 inch (42 mil or 1,07mm) holes accept machined pins or standard .025 inch square wire-wrap posts, allowing easy wire-wrap and prototyping.
The module is provided without pins and can be mounted onto wire-wrap posts in your application. A pinned package can be provided at extra cost.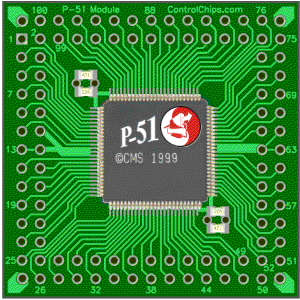 P-51 SQFP premounted.
Bypass caps premounted.
160 x 160 mil square PCB.
100 mil (2,54mm) grid through-hole pads.
42 mil (1,07mm) diameter wire-wrap holes.
Accepts 25 mil (0,64mm) square wire-wrap posts.
100 signals, all visible/accessible from top.
4 corner No-Connects.