CYB-500/512/525 Kit For Evaluation and Prototyping
CYB-500, CYB-512, & CYB-525 Overview
Now you can intelligently control your four-phase stepper in just a few hours. The CYB500 prototyping kit comes ready to assemble, complete with a CY500, CY512 or CY525 intelligent stepper motor controller and documentation. A wirewrap section even allows for custom interfacing to your particular application. Just add power supply and keyboard or computer . . . then see how intelligent your motor can be.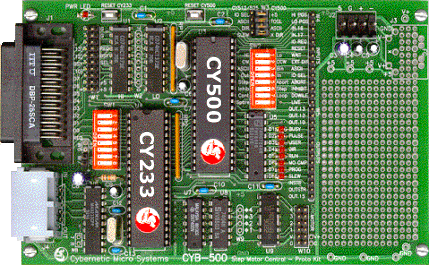 Kit shown assembled with CY500 and CY233 serial option.
Standard Features
Flexible design for control of the CY500, CY512 or CY525 Stepper Motor Controllers.
Dip switches on all seven CY500/512/525 control inputs.
LEDs on all eight CY500/512/525 control outputs.
All control signals brought to wirewrap posts.
Accepts 8-bit parallel commands from an ASCII keyboard, on- or off-board host controller, or from your PC parallel printer port using the DB25 connector.
Serial (from 300 to 19,200 baud) or network connection using RJ11 jack and optional CY233 network controller.
General purpose power driver handles many 4-phase stepper motors (up to 1.5 amp/phase @ 35V max.)
Requires only 5 volts at 0.5 amp max. (plus motor current & voltage).
Optional + and - voltage connections are provided for custom circuits. RS-232 voltages are generated internally.
Compact size 100mm x 160mm (approximately 4" x 6.3") single height Eurocard format.
Wirewrap area for additional interfaces of special circuits.
Options:
CY233           CY233   Network Controller Chip
Power-4         WM063   Elpac Power Supply (5v@380 mA, 12v@180mA, -12v@180mA)
4RJ-DB9F        Serial  4-conductor modular cable with DB9F Connector
                Cable

....User Manual (PDF) 50 pages (5 MB download) for CYB-500 kit